Rebar Christmas Tree Stands & Bowls
Tree Stands to fit any size of tree
We offer re-bar stands and water bowls for any tree. Our rebar stands helps keep any tree straight, fresh and beautiful. Rebar Christmas Tree Stands is dipped in paint to prevent corrosion. They are easy to adjust and can be reused year after year. Water bowls are list with the corresponding stands. Please Contact Us if you have a specific need or any questions.
Rebar Christmas Tree Stands Accessories
Vinyl Rebar Tips
These red vinyl caps fit on the ends of the Rebar Christmas Tree Stands. Retail customers place the vinyl caps on the stands so that the rebar does not come in contact with their floor surface. Vinyl Rebar Tips come in 100 count packs.

Water Bowl Grommets
Replacement grommets for our Rebar Christmas Tree Stands Water Bowls. Grommets come in 100 count packs.

EZ-UP Drilling Machine
Tree Drilling, Stand & Water Bowl System. Fast and economical. Allows pre-drilling of all trees. When trees are ready to be displayed, simply drive the spike stand into the base. Once the customer buys the EZ-UP Stand, they will return each year to buy another pre-drilled tree from you.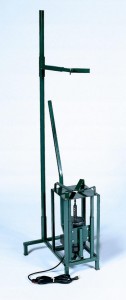 EZ-UP Standard Drill Machine – 36102
Save time and labor
Eliminates wood stands
Constructed from heavy gauge steel
Fast & easy operation
Includes sealed motor
Includes high production drill bit


EZ-UP Drill Machine Replacement Parts
Replacement drill bits and chucks for your EZ-UP standard drill machine